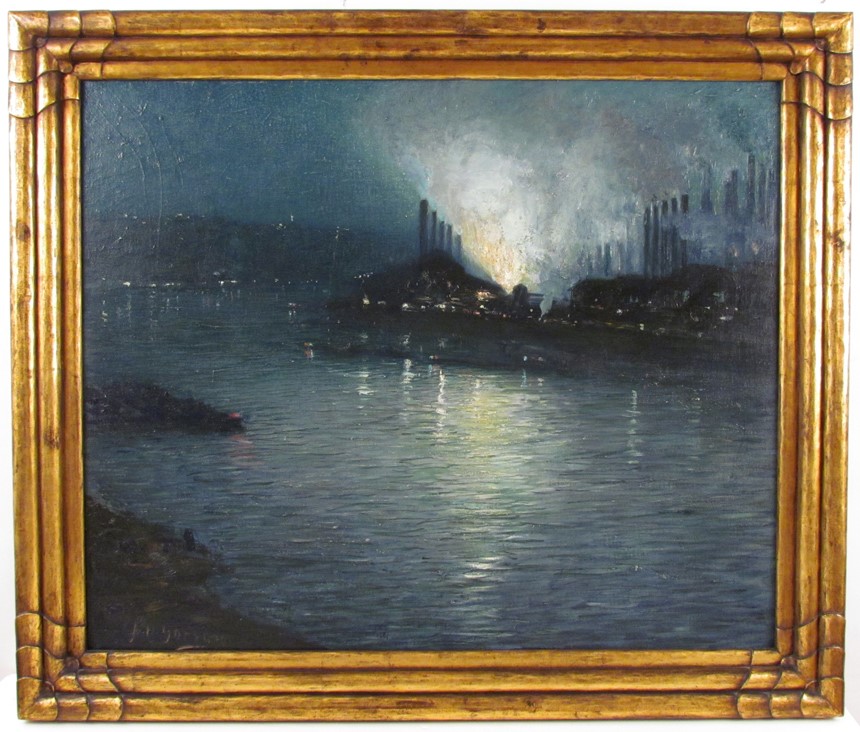 The days of Big Steel are long gone in Western Pennsylvania. But the era of mills lighting up the night skies with fire and smoke lives on in the work of Aaron Gorson, who specialized in painting nocturnal landscapes of the region's industrial past. One of Gorson's finest, "Steelmaking at Night on the Mon," is among the highlights at Concept Art Gallery's fine art and antiques auction Nov. 1.
Painted in 1910, the oil-on-canvas is housed in a hand-carved, gilded Arts-and-Crafts-period frame. The painting was once owned by Arthur Riley, a noted collector of works by Western Pennsylvania artists.
Another painting with a regional background and a completely different point of view is an A.F. King daytime rural lakeside landscape. Best known for his nearly lifelike still lifes, King also journeyed into the local countryside to paint. Concept owner Sam Berkovitz calls this work the greatest A.F. King landscape he's seen, citing the intricate detail in the tiny work. Sold by Pittsburgh's famed Gillespie Gallery in the early 20th century, the 51⁄2-inch-by-9-inch work, titled "Lake Landscape With Sailboat," rests in a gilded Victorian frame decorated with extensive scrolling.
Other paintings in the sale with local ties are Daniel Ridgeway Knight's oil-on-canvas "The Washerwoman Along the Seine" and several pieces by Mary McKibbin. An ex-pat from Chambersburg, Franklin County, Knight worked mainly in France, and "The Washerwoman" was originally sold by the Gillespie Gallery. McKibbin, whose oil-on-board scenes depict Pittsburgh neighborhoods, taught at Schenley High School, where Andy Warhol was one of her students.
In the antiques section of the sale, bidders can compete for an elegant Tiffany Arabian-style desk lamp or a Pairpoint "Puffy" boudoir lamp. The sale includes a sizeable amount of high-end jewelry, such as a 3.3-carat pear-cut brilliant diamond ring set in platinum. Also in the mix are Eskimo art, a "crazy quilt" crafted by public-school students in Idaho, early maps of Pittsburgh, silver flatware and serving pieces, accessories, mint coin sets and art glass.
Previews are at Concept Art Gallery from 10 a.m. to 5:30 p.m. Tuesdays through Saturdays, until 8 p.m. Thursdays or online The sale will start at 10 a.m. Nov 1. Previews and the sale will be at 1031 S. Braddock Ave., Regent Square. Details: 412-242-9200 or www.conceptgallery.com